Hairwonder Colour & Care - Very Light Blonde 9
---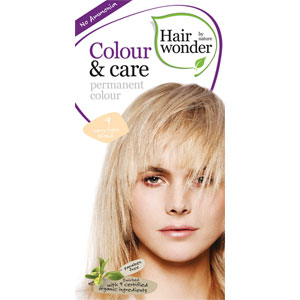 Hairwonder
Colour & Care - Very Light Blonde 9
100ml net
£10.95
Add to Basket
Catalog ref: HS-2013
Key Info
No ammonia.
Parabens free.
Enriched with 9 certified organic ingredients.
Perfect grey coverage holds for 6-8 weeks.
Available in 18 beautiful colours.
Description
This ammonia free, permanent hair colouring intensively colours, protects, nourishes and strengthens the hair in one treatment.
With 9 certified organic ingredients to protect the hair structure and give hair optimal care and brilliant shine. Prevents colour fading, strengthens the hair structure and also protects against UV-radiation.
Organic Argan Oil, Phytokeratin and Provitamin B5 condition, give superior shine and nourish from root to tip.
Provides better grey coverage and colour stays longer (for at least 6-8 weeks). The cream formulation makes application easy and also leaves less residue on the scalp.
Includes
Argan Oil
Panthenol
Rosemary
Hops
Melissa
Asplathus
Chamomile
Cassia
Ginseng
Green Tea
Soy Protein
Wheat Protein
Free From
Parabens, Ammonia, O & P Aminophenol, Tetrahydro-6-nitroquinoxaline, Chlororesorcinol, Fragrance Allergens, Phthalates, Musk Compounds.
Pack Includes
- Colour & Care Activator 40ml bottle
- Colour & Care Cream 40ml tube
- Colour Fix Leave in Conditioner 20ml sachet
- Protective gloves
- Instructions leaflet
To Use
Apply to dry hair. Leave for 30 minutes.
On thick, sturdy or grey hair extend by 5-10 minutes.
For the Light Blond shade use a maximum of 45 minutes.
The pack is sufficient for shoulder-long hair. For shoulder-long to long hair or thick hair use two packs.
Advice
Colour & Care is applicable on 100% grey. If more than 50% is grey and you wish to use a fashion colour it is recommended that you mix with a matching natural tone.
Colour & Care can be used on coloured or permed hair. It is not suitable for hair that has been bleached.
A sensitivity test should be done 48 hours prior to application.
Not to be used for eyebrows or eye lashes.
Not intended for use by anyone under 16.
Ingredients
Warnings
Hair colourants can cause allergic reactions. Please read and follow the instructions included. This product is not suitable for use on persons under the age of 16. Temporary 'black henna' tattoos may increase your risk of allergy.
Do not colour your hair: If you have a rash on your face or sensitive, irritated and damaged scalp. You have ever experienced any reaction after colouring your hair. You have experienced a reaction to a temporary 'black henna' tattoo in the past.
Contains phenylenediamines (toluenediamines), resorcinol, low ammonia and hydrogen peroxide. Sensitivity test must be done 48 hours before use.
Do not use to dye eyelashes or eyebrows. Rinse hair well after applying mixture. Avoid contact with eyes. Rinse eyes immediately if product comes into contact with them. Never keep left over mixture. Wear the enclosed gloves. Keep out of reach of children.
---
Product Comments & Customer Reviews
Hairwonder - Colour & Care
" Since switching to Hairwonder Colour & Care I have found it milder than other natural hair dyes. It doesn't sting my scalp and there's no hair loss after. " MH, Manchester
" I am so pleased with this product. It's like a dream. My hair feels so soft and smooth and well covered. " H.M., Sutton
" Love this hair colour and it doesn't make my scalp itch which is a huge bonus Thank you " JDW, Deeside
" Please don't stop stocking this " VV, Bakewell
" I love this product! Please keep stocking it! It leaves my hair very well conditioned and thoroughly coloured too. " J.H., London
" Thank you for stocking this hair items as you are the only place I can purchase these and it's the best product I use without the PPD and other nasties in it. Thank you for that. Your products arrive securely and promptly. " ZS, Banbury
" My hair is looking cool in this chocolate brown colour " PT, Shrewsbury