Hand Soap - Lemongrass
by Earth Friendly Products
Made from plants.
Kind to your skin.
Description
Formulated to be truly green and effective, this handsoap is a luxurious blend of coconut-based soap, organic lemongrass essential oil and grapefruit seed extract. Its gentle formula will clean hands and leave a pleasant lemongrass scent.
Includes
Grapefruit seed extract¬Glycerin¬Natural vitamin E¬Lemongrass oil
Free From
Formaldehyde, Petrochemicals, Phosphates, Chlorine, Ammonia, 1,4-Dioxane, GMOs.
Other
Readily biodegradeable. pH balanced. Recyclable bottle and cap. Septic tank and greywater safe.
To Use
We hand. Work soap into a rich lather. Rinse. Repeat if necessary.
Comments & Customer Reviews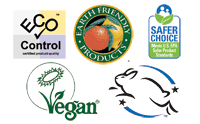 Ecos - Earth Friendly
'One by one we can change the world'.
There's clean, and then there's honest clean.
Earth Friendly Products was founded in 1993 with a simple mission: To provide high quality cleaning products that are absolutely safe for your family, your pets and the environment, made with replenishable ingredients.
In 2017 Earth Friendly Products proudly celebrated 50 years of creating environmentally friendly and sustainable cleaning & laundry products using thoughtfully sourced ingredients which are safer for people, pets and the planet. To mark the occasion, they changed their name to ECOS, the same as their best-selling laundry detergent. The ECOS range offers an effective clean, powered by plants at an affordable price. All products are positively free from formaldehyde & dyes, are readily biodegradable & easily recycled, as well as