Chocolate Shower Gel & Bath Foam
by Faith In Nature
Description
This luxurious blend of cocoa is infused with vanilla to nourish your sense. Packed with wonderful aromas to soothe your day. Made with organic cocoa.
An irresistable Chocolate Shower Gel and Foam Bath containing anti-oxidant flavonoids, helping to protect against the ageing process.
In addition, chocolate contains both seratonin and phenylethylamine, two 'feel good' factors that are naturally released when we're happy and at peace with ourselves.
When showering or bathing with this organic chocolate shower gel the sweet aroma of chocolate is released and provide an uplifting delight.
Includes
Organic cocoa extract¬ Vanilla fruit extract¬ Brown algae powder¬ Tea Tree leaf oil
Free From
Free from artificial colours and fragrances. No Parabens or SLES.
Eco-friendly
Biodegradeable. Bottles made from recycled material, when available. Made in England.
To Use
Pour under running water for a foam bath or use all over the body in the shower. For frequent use.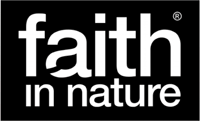 Chocolate Range
Natural products.
Made in the UK.
The plants that Faith In Nature use in their products smell wonderful, but that's not the only reason they use them. They have an unwavering belief in their power, and each one has been chosen for its healing qualities – resulting in products that work just as nature intended.