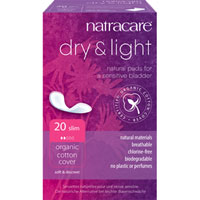 Incontinence Pads
Natural materials.
Breathable.
Chlorine-Free.
Biodegardable.
No plastics or perfumes.
Natural pads for a sensitive bladder.
One in three women between the ages of 20 -85 experience bladder leakage.
About
Because of plastics and synthetics used to manufacture most incontinence products continuous usage has been found to encourage rashes leading to various skin diseases.
Soft and discreet, Natracare Dry & Light pads are the first of their kind. Made from totally chlorine free, sustainable and natural biodegradable materials, and free from any petroleum-derived super absorbents or plastics that you'll find in many other products.