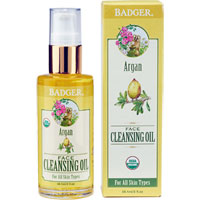 Argan Cleansing Oil
Badger | more info....
BA-101 | 59ml pump bottle | Sold Out
59ml pump bottle
Sold Out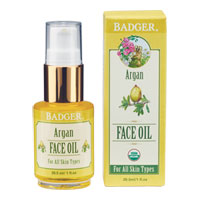 Argan Face Oil
Badger | more info....
BA-102 | 29.5ml pump bottle | Sold Out
29.5ml pump bottle
Sold Out
include discontinued items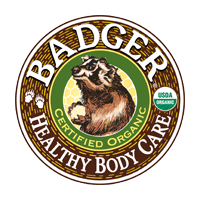 Facial Care
USDA Certified Organic & 100% Natural .
Let your natural beauty shine through!
Inspired by thousands of years of skin care tradition, Argan Face Oil and Argan Beauty Balm are a nourishing treatment for face, neck, and under eye area. Great for hands, too!
The light floral and citrus aroma of Argan, Sandalwood, and Ylang Ylang smells delightful.
About
Every ingredient used is grown and processed with the highest degree of respect for protecting the environment, the workers and the natural properties of the plants.
Nearly all of Badger's products are made from 100% USDA Certified Organic food grade ingredients.
They formulate simple, natural products using traditional methods and plant-based ingredients that have been gently extracted.