Blackcurrant 5 Minute Face Mask
by Martha Hill
With Honey and Chamomile.
For all skin types.
Made in the UK.
Description
A revitalising mask to rehydrate and moisturise dry, dull skin and soothe damaged, irritated complexions.
As a treatment for very dry, dehydrated skin this rich and nourishing mask can be left overnight to be absorbed.
Any remaining traces can be smoothed in as an additional moisturiser.
Also perfect for gentle facial massage.
Includes
Blackcurrant oil.
Sesame oil.
Honey.
Chamomile.
Free From
Parabens.
Mineral oil.
Artificial colour.
To Use
Apply liberally to cleansed skin all over face and neck and leave for at least five minutes.
Massage gently before removing.
Comments & Customer Reviews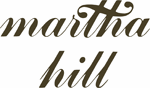 Martha Hill
Serious herbal skin care for over 40 years.
With the original range formulated in the late 1960's Martha Hill was well ahead of her time in producing a range of skincare products based on the purest natural ingredients.
All Martha Hill products are formulated to react to your skin's daily needs. They are finely balanced to ensure that your skin receives the care it deserves. Based on a carefully researched combination of the finest natural oils and extracts they are designed to cleanse, tone, moisturise and nourish: the four essential steps to a healthy, glowing complexion.