Gloves In A Bottle
by Gloves In A Bottle
| | |
| --- | --- |
| | |
| Ref: | BY-GB6 |
| Price: | £ 5.20 Out of Stock |
Dry cracked Hands?
Sore fingers?
Itchy rash?
Irritated skin?
Try Gloves in a Bottle today!
Description
A hand protection, barrier lotion that rapidly bonds with the outer layer of skin creating a protective barrier, and effectively sealing out exposure to harmful irritants, dirt and grime.
An ideal moisturiser, it allows the skin to breathe while retaining its natural moisture. It does not wash off, but comes off naturally with exfoliated skin cells.
This invisible pair of gloves helps reduce the natural oil and moisture loss allowing the skin to heal itself.
These 'Invisible Gloves' keep moisture-robbing irritants out while retaining your skins natural oils and allows the outer layer of skin functioning so well so it can breathe and perspire naturally.
Benefits
Acts like invisible gloves, protecting the hands from the effects of chemicals, handwashing and contact dermatitis. An ideal skin safeguard for applications that include all work in harsh weather conditions, household work, DIY, hospital duties, sport, gardening, construction and engineering work.
Protects against latex and nickel allergy.
To Use
Greaseless, non-sticky, fragrance-free, completely safe and non-toxic. Because it becomes part of the outer layer of skin itself, it doesn't wash off like conventional lotions. It comes off naturally with exfoliating skin cells.
For continued protection, just reapply every 4 to 12 hours.
Recommended by dermatologists as an ideal safeguard for eczema, dermatitis and dry, cracked skin conditions.
Comments & Customer Reviews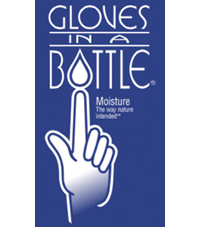 Gloves In A Bottle
Creates an invisible pair of gloves.
Protects from damaging chemicals.
Delivers moisture the natural way nature intended.
Gloves In A Bottle is a shielding lotion. A shielding lotion bonds with the outer-most layer of skin, locking in natural moisture and oils. Natural moisture and oil loss is the leading cause of dry skin and irritated skin. This is one of the biggest reasons why so many dermatologists are now recommending Gloves In A Bottle as an effective dry skin treatment.
Gloves In A Bottle restores the protective qualities to the outer layer of skin that modern living strips away – so that your skin stays properly moisturized and healthy.
Because it literally becomes part of the outer layer of skin, it does not wash off like other lotions, but comes off naturally as your skin exfoliates. For continued protection, simply reapply in 4 — 12 hours.