Bazilian Bikini Hard Wax
by Remove
| | |
| --- | --- |
| Size: | 80ml jar |
| Ref: | RM-RE05 |
| Price: | £ 9.99 Out of Stock |
For Bikini & Underarm.
Liposoluble Wax Designed for Intimate Areas.
With 4 Cheeky Bikini Stickers.
Description
No more stress! Practical and fun liposoluble wax experience designed for intimate areas.
Brazilian Bikini designed exclusively for intimate areas is an innovative product that you can apply on your own. Developed for the sensitive intimate areas, the product ensures a practical, easy and fun wax experience.
Benefits
Liposoluble wax for intimate areas
Freezes when spreaded on the skin
Doesn't require strips during use.
It can be heated in all kinds of ovens.
It is produced with beeswax.
Dermatologically tested.
Box Includes
1 jar of Liposoluble Wax 80 ml
4 Different Template Bikini Stickers
4 Pain-less Pre Wax Preparation Wipes
2 Wide Spatula
4 Remove After Wax Cleaning Wipes
1 User Instructions
Free From
It doesn't contain rosin resin, paraben, mineral oils and sugar.
To Use
Preparing for Use
Normal Oven: Set the oven to 100°C after you place the product into the oven and continue heating until it has fluid honey consistency. Do not keep the product in the oven for more than 15 minutes.
Mix the product before use. We recommend you to use a glass bowl or plate to prevent it from burning your hands or spilling in the oven.
Caution: The package of the product can only be heated up to 100°C.
Microwave oven: If you prefer to heat the product in microwave oven, bring the power setting of your microwave oven to a maximum of 600W and heat for 6 minutes. If there isn't a power setting in the microwave oven, bring to the highest level and heat for 3 minutes. If the product isn't a fluid honey consistency, continue to heat with intervals of 1 minute, until it reaches the defined consistency.
In hot water: If you prefer to heat the product in hot water, place the product in water which doesn't surpass the filling level of the product and heat at least 15 minutes, until it reaches fluid honey consistency.
In all heating methods, keep package cover and the protection cover in the package closed. Do not touch the product without protective gloves or similar measures to prevent any burns on your hands.
Usage:
Mix the product heated to fluid honey consistency with a spatula and homogenize it. Always try the product on small part of your body to test its heat.
Thickly apply the product you picked from the bottle with spatula, in the direction of hair growth and keep on your skin for 45 seconds to freeze.
Scrape off the hardened product with your nail starting from where you finished applying, until you can hold with your fingertips Firmly hold the end with your finger, then pull it fast in one motion in the opposite direction of hair growth, parallel to your skin. Try not to keep the product on your skin for more than 1 minute. The product waiting for more than 1 minutes hardens and may be broken while pulling.
Clean the waxed area with Remove After Wax Cleaning Wipes.
* To get shaped results in the bikini area, before applying wax to the area, stick the sticker of the desired shape and spread the wax on the sticker.
blank
4 x Bikini area wax templates
Cautions
The product is not suitable for diabetics, pregnant and retinoid patients.
Do not expose the waxed area direct sunlight for 12 hours after you applied the product. Do not use any cosmetics or cream on the area you waxed for 12 hours following the usage.
Do not use the product in menstrual or premenstrual period in your intimate areas.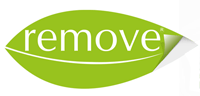 Remove
Natural Hair Removal Products.
Paraben, sugar & mineral oil free.
Remove, approaches depilation in 3 phases: 'Preparation before depilation', 'depilation' and 'after depilation'.
It is an innovative range produced from beeswax .