Pure Bliss Bath Crystals
by Kneipp
With Red Poppy and Hemp Seed Oils.
With pure & natural Thermal Spring Salt
Description
The intoxicating blend of Red Poppy and Hemp-derived Cannabis Sativa Seed Oil found in Kneipp Pure Bliss Bath Oil offers a beautiful, lightly floral fragrance to lull you into a state of divine relaxation.
The unique crystalline structure of the thermal spring salt naturally absorbs more essential oils for a highly concentrated, effective soak. When added to warm water, the aroma envelops you and lasts for the duration of your bath. When you've spent too much of your day taking care of everyone else, swirl a capful of this indulgent botanical bath salt into warm water and treat yourself to a moment of well-being.
This pale pink bath will leave you feeling pampered, relaxed, and ready to take on whatever tomorrow brings.
Includes
Thermal Salt
Red Poppy Seed Oil
Hemp Seed Oil
Mandarin Peel Oil
Bergamot Peel Oil.
Free From
SLS/SLES
Mineral Oil
Parabens
Silicones
Benefits
PROMOTES WELL-BEING – Valuable Red Poppy Seed Oil has a calming effect that soothes the senses and can help you forget about your worries.
DETOXIFY - Contains pure, uncontaminated thermal spring salt rich with trace elements and minerals to gently cleanse the skin and help support your body's natural detoxification process.
NOURISHING - Hemp-derived Cannabis Sativa Seed Oil is rich in essential fatty acids that help promote moisture retention and support the skin's natural barrier for beautiful, glowing skin.
To Use
For a full bath, fill the cap 3/4 full with bath crystals, add them to warm bath water (approx. 97-100ᄚF / 36-38ᄚC) and dissolve them completely.
Soak for 15-20 minutes.
For 8-10 full baths.
About
Kneipp Mineral Bath Salts contain salt crystals that are generated from salt water that is pumped up 460 meters from an underground sea in Germany. The water is boiled off using Europe's last existing traditional pan method and the remaining salt is then infused with essential oils. This process allows the Kneipp Mineral Bath Salts to be created without chemical additives, remain free of modern pollution and naturally rich in minerals.
The Bath Salts contain a much higher percentage of Calcium, Magnesium, Iron and Zinc than sea salts and industrial salts. The unique crystals naturally absorb the Essential oils until released into a warm steam bath.
The 100% natural Kneipp Mineral Bath Salts are alkaline free, preservative free, dermatologist tested, bathtub friendly (leaves tub clean) and skin friendly.
Comments & Customer Reviews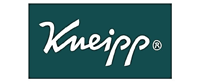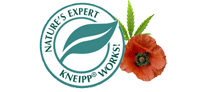 Pure Bliss Range
Red Poppy & Hemp relaxes body and soul.
Kneipp works, naturally.
"Nature has provided us generously with everything we need to remain in good health" (Sebastian Kneipp, 1821-1897)
Established in Bavaria in 1891, Kneipp has been manufacturing contemporary products for health and well-being- proven quality for generations.
Sebastian Kneipp revolutionized naturopathy in the 19th century and created a visionary concept of life. He closely linked together the elements water, plants, exercise, nutrition and balance.