Brilliance All in One Dishwasher Tabs
by Ecozone
Make your home an ecozone.
Sparkling results.
Allergy UK Approved Product.
Description
A high-performance formula that tackles tough to remove build-ups, burnt on residues, and oily greases that linger on your dishware!
Leaving your dishes sparkling without leaving any toxic chemical residues behind.
The Brilliance Tablets come in soluble wrapping, so no need to open up each one before placing in the dishwasher, simply use as per the instructions.
The high performance formula cuts through grease and grime to leave your glasses sparkling and dishes shiny even on low temperature and short cycles.
Benefits
High performance formula suitable for short cycles
Leaves dishes & glassware sparkling
Soluble wrapped tablets
Free From
Chemical bleach
Phosphate Free
Safe for septic tanks
To Use
1) Do not unwrap tablet.
2) Place one tab in the dispenser.
3) Seal bag after each use.
For Short Cycles (up to 45 mins) – For best results, place the tablet directly on the floor of the dishwasher
For Long Cycles – Place one tab directly into the dispenser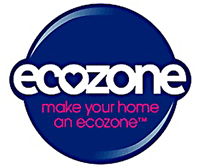 Kitchen Cleaning
Earth friendly, green products.
Mission - to 'Make Your Home an Ecozone'.
We want to reduce the amount of toxic chemicals you live with. Homes should be safe, clean places for people to flourish, not germs. But we don't see why giving dirt the heave-ho means letting loose all manner of planet-zapping toxins. For Ecozone being green's not about attaining some elitist or hippy ideal. Respecting the environment can be a way of living every day. By giving planet-friendly solutions to your household problems, they hope you'll be able to make choices that are better for you and everyone else, the world over.
The Dishwasher is responsible for 16% of household CO2. Reducing the temperature and time will reduce household CO2 by 2%. Fast drying Ecozone Rinse Aid and Dishwasher Tablets are carefully formulated to give faster results.