Washing Machine & Dishwasher Cleaner
by Ecozone
Cleans, descales 7 deodorises.
Allergy UK approved product.
Fragrance Free
Description
Ecozones Washing Machine & Dishwasher Descaler tablets help to protect your kitchen appliances.
It's specially formulated to clean, freshen and descale, by getting rid of stubborn limescale and detergent that has built up over time.
With using this easy to use solution, your machine can keep performing at its best and you can avoid expensive call out charges and repair bills.
Fragrance free this eco-friendly formula will leave your appliances free of any nasty odours.
Simply use one Washing Machine & Dishwasher Descaler tablet every 1-3 months to keep your appliances in tip-top shape.
Benefits
Removes limescale & detergent build up while sanitising
Cleans & maintains your appliances & pipework
Non-toxic, septic tank safe formula
To Use
For washing machines:
1) Pop a tablet into the drum of your empty machine.
2) Run a hot (60 C plus) cycle without a pre-wash.
For dishwashers:
1) Pop a tablet onto the bottom of the empty machine.
2) Run a hot wash without a pre-rinse.
There is no need to unwrap the tablet – the packaging is soluble!
Comments & Customer Reviews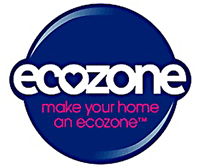 Kitchen Cleaning
Earth friendly, green products.
Mission - to 'Make Your Home an Ecozone'.
We want to reduce the amount of toxic chemicals you live with. Homes should be safe, clean places for people to flourish, not germs. But we don't see why giving dirt the heave-ho means letting loose all manner of planet-zapping toxins. For Ecozone being green's not about attaining some elitist or hippy ideal. Respecting the environment can be a way of living every day. By giving planet-friendly solutions to your household problems, they hope you'll be able to make choices that are better for you and everyone else, the world over.
The Dishwasher is responsible for 16% of household CO2. Reducing the temperature and time will reduce household CO2 by 2%. Fast drying Ecozone Rinse Aid and Dishwasher Tablets are carefully formulated to give faster results.