Unscented Lip Balm
by Badger
Certified Organic Lip Balm.
Try it, use it, never lose it.
Soothing relief for dry, chapped skin.
Description
This is an all-purpose remedy in the tradition of the original Badger Balm ... good for cracked dry lips and for helping to heal.
Gentle, Mild and Effective.

Very good for Cracked, Chapped, Rough and Weathered Skin.
Includes
Extra Virgin Olive Oil.
Golden Yellow Beeswax.
Castor Oil.
Rosemary.
100% Certified Organic Ingredients.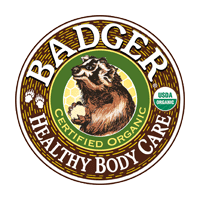 Badger Lip Balms.
100% natural Lip Care USDA Certified Organic.
Naturally Rich, Elegantly Soothing and full of Fabulous Scent.
USDA Certified Organic lip balms contain organic extra virgin olive oil and beeswax to moisturize your lips while protecting them from the elements.
A light texture, smooth glide, and a hint of shine make your lips feel and look great all the time.
No artificial colours, flavours, or sweeteners, just a bounty of antioxidants and nourishing goodness.