Mineral Lip Tint - Rose Tourmaline
by Badger
BEST BEFORE END MARCH 2021
All Natural .
With Rose & Vanilla.
Soothes, Smooths & Protects with a Hint of Colour.
Description
Creamy and smooth this natural mineral lip tint protects and nourishes, leaving your lips soft and beautiful.
One swipe delivers a sheer touch of colour, or apply liberally for increased intensity.
Great in a pinch for adding a bit of colour to your cheeks and under the brow bone.
Subtle aroma of Rose and Vanilla plus the naturally heavenly scent of Shea and Cocoa Butter will make it your new go-to everyday lip balm.
Two stunning shades:
Garnet - with a subtle plum-red hue.
Rose Tourmaline - with a delicate rose-pink hue.
Benefits
Made with Fair Trade Certified ingredients.
Sheer coverage or buildable colour when applied liberally.
Protects and nourishes, leaving lips soft and naturally beautiful.
Subtle scent of Rose and Vanilla from organic essential oils.
Deeply moisturizing with Cocoa Butter, Shea Butter, and Coconut Oil.
Includes
Beeswax
Sunflower Oil
Coconut Oil
Cocoa Butter
Shea Butter
Aloe Vera Extract
Vitamin E
Rosehip Extract
Jojoba Esters
Rose Oil
Vanilla Extract
Sea Buckthorn Extract
21% Fair Trade Certified by Fair Trade USA.
Cruelty-Free and made in the USA.
Free From
Free from anything harsh or artificial, including fragrances, dyes, parabens, petrolatum, GMOs, and synthetics.
Tinted with safe, pharmaceutical-grade minerals (iron oxide, titanium dioxide, silica, and mica).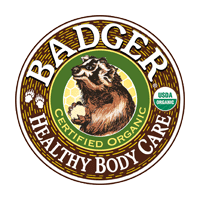 Badger Lip Balms.
100% natural Lip Care USDA Certified Organic.
Naturally Rich, Elegantly Soothing and full of Fabulous Scent.
USDA Certified Organic lip balms contain organic extra virgin olive oil and beeswax to moisturize your lips while protecting them from the elements.
A light texture, smooth glide, and a hint of shine make your lips feel and look great all the time.
No artificial colours, flavours, or sweeteners, just a bounty of antioxidants and nourishing goodness.