Soap Cake Slice - Lemon Bon-Bon
by Rose & Co Patisserie De Bain
Description
Take a slice of sweet soap heaven and let the sweet scent cleanse your skin and calm your senses.
Choose From
Strawberry Cupcake - a cheerful combination of strawberries and cream, great for capturing the joy of sunny Summer days.
Orange Crush - seems to make the sun shine wherever you are, it's a sweet injection of Summer.
Lemon Bon-Bon - dances onto the scene with sherbety sweetness for a fresh, Spring-time burst of scent.
Sweet as Cherry Pie - a comforting blend of warm cherries, sweet vanilla and almond - it's like giving your senses a little cuddle.
To Use
Whether you're using this soap as a sweet guest soap, in the bath, shower or for your hands this soap slice is sure to delight.
Simply unwrap, rub between wet hands to lather up and wash away that nasty dirt with sweetness.
We don't want to tell you how to organise your bathroom, but these soaps do look delicious on a cute soap plate.
Comments & Customer Reviews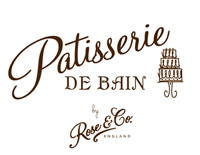 Patisserie De Bain
Darling little cakes and fancies for the bath.
Inspired by French patisseries and cafes.
Afternoon tea can now be had in the bath!
Inspired by colourful French patisseries and traditional sweet shop sweets, the Patisserie de Bain product range is an enchanting blend of styles, colours and sweet fragrances.
Enriched with cocoa butter, shea butter and essential oils and fragrances these little beauties will scent the bath and moisturise the skin leaving it soft and nourished.