Evening Primrose Moisturising Hand Cream
by Martha Hill
Description
A creamy textured moisturising hand cream to smooth rough, dry, neglected hands. ¬Improves texture and helps to soothe minor irritations, burns and abrasions.
Includes
Oil of Evening Primrose.¬Rose Geranium oil.
Free From
Fragrance free.
Comments & Customer Reviews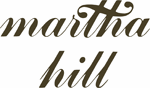 Martha Hill
Serious herbal skin care for over 40 years.
With the original range formulated in the late 1960's Martha Hill was well ahead of her time in producing a range of skincare products based on the purest natural ingredients.
All Martha Hill products are formulated to react to your skin's daily needs. They are finely balanced to ensure that your skin receives the care it deserves. Based on a carefully researched combination of the finest natural oils and extracts they are designed to cleanse, tone, moisturise and nourish: the four essential steps to a healthy, glowing complexion.