Face & Body Rescue Cream
by Barefoot SOS
Advanced Natural Skincare Solutions.
Suitable for skin prone to eczema & psoriasis.
Description
This multi award-winning, intensively rich and nourishing Rescue Cream combines the highest quality botanical extracts, pure natural moisturisers and the finest essential oils to provide welcome relief for problem skin.
Includes
Chickweed - A humble wild plant which has been used for centuries to help cool, soothe and bring comfort to itchy, uncomfortable skin.
Purslane - Purslane is a succulent plant with a high content of Glutathione, a powerful antioxidant which helps protect the upper skin layers against free radical damage.
Burdock Root - A traditional herb with antioxidant & antimicrobial properties to help protect against irritation & redness.
Macadamia Oil - A rich oil with deep skin-conditioning properties which is one of the best sources of Omega 7 and 9 essential fatty acids. Macadamia has a skin-shielding effect while still allowing the skin to breathe naturally.
Aloe Vera - Well-known for its unique cooling gel released directly from the leaves, Aloe Vera is a highly beneficial plant ingredient which soothes and calms itching and reduces redness. Neroli - A superb essential oil with a gentle, caring effect on the skin, helping to reduce inflammation.
Roman Chamomile - Sweet Roman Chamomile essential oil helps soothe the skin.
Free From
98% natural origin. Parabens¬ Paraffin¬ SLS¬ Artificial colour and fragrance.
Made in the UK¬ Suitable for Vegans
Benefits
Highly moisturise and soothe all kinds of dry, sensitive, uncomfortable and problem skin.¬ Support withdrawal of steroid creams.¬ Help and control patches of eczema, psoriasis and dermatitis.¬ Provide extra moisture for elbows and knees.¬ Soothe and hydrate wind-chapped or sun-damaged skin.¬ Deal quickly and effectively with allergic flare-ups.¬ Suitable for all ages, even babies.
To Use
Use regularly on your face and body to nourish dry areas, restore normal skin texture and maintain suppleness.
It is important to patch test if you think you may be sensitive to any of our ingredients used, especially for children under 3 years old.¬ Avoid contact with eyes.¬ Store in a cool place away from sunlight.¬ Contains nut oil.
Comments & Customer Reviews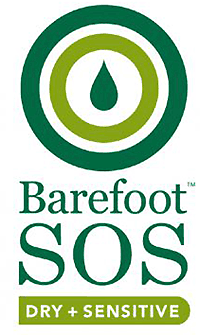 Barefoot SOS - Dry & Sensitive
Advanced natural therapeutic formula.
Vegan.
Cruelty Free.
Made in the UK.
SOS Dry + Sensitive is a lifeline for sufferers with extremely dry, sensitive, irritated or uncomfortable skin.
The products are suitable for all ages and for those who may be prone to eczema and psoriasis.
The range is based on a nurturing complex of the cooling and soothing benefits of Stellaria with other pure natural moisturisers and the finest essential oils to deliver comfort, moisturisation and protection to problem skin.