Hand Cream Keepsake Tin
by Rose & Co Patisserie De Bain
| | |
| --- | --- |
| Size: | 4 x 50ml + Tin |
| Ref: | RC-HCT |
| Price: | Sold Out |
Sorry, this product is no longer available.
4 x 50ml fragrant hand creams.
Description
Four fragrant hand creams presented in 50ml tubes and in an attractive, roomy keepsake tin.
If you like your hands silky smooth and sweet-smelling then you've come to the right place! These hand creams are rich in moisturising glycerine to keep your hands in tip-top condition with the added bonus of delectable sweet scents.
Ideal for popping in your handbag, keeping in your desk drawer or stashing in your car.
Gift Tin Includes
Sugared Violet Hand Cream - the scent is sweet and simple – conjuring happy childhood memories.
Strawberry Cupcake Hand Cream - with the most cheerful scent of strawberries and cream.
Cranberries & Cream Hand Cream - a perfect, yet eclectic blend of fruity cranberries whipped with sweet Chantilly cream.
Crème Patissière Hand Cream - the sweet scent of soft vanilla has the ability to wave a magic wand.
To Use
Flip the lid of this handy tube and squeeze out a dash of the nourishing, glycerine-rich hand cream. Massage gently into your hands paying special attention to dry patches such as knuckles, in between fingers and cuticles.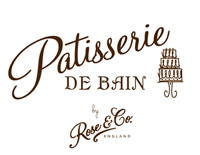 Patisserie De Bain
Darling little cakes and fancies for the bath.
Inspired by French patisseries and cafes.
Afternoon tea can now be had in the bath!
Inspired by colourful French patisseries and traditional sweet shop sweets, the Patisserie de Bain product range is an enchanting blend of styles, colours and sweet fragrances.
Enriched with cocoa butter, shea butter and essential oils and fragrances these little beauties will scent the bath and moisturise the skin leaving it soft and nourished.