Manuka Honey & Manuka Oil Antiseptic Creme
by ManukaVantage
| | |
| --- | --- |
| Size: | 20g tube |
| Ref: | MV-AC |
| Price: | £ 8.30 Out of Stock |
Natures natural healer.
Active AAH 650+.
Made in New Zealand.
Description
A soothing and healing crème that contains the combined action of the antibacterial properties of Active Manuka AAH (Antibacterial Antioxidant Honey) 650+ and anti-inflammatory Manuka Oil plus skin calming Aloe Vera.
Manuka Honey and Manuka Oil help to heal and protect the skin from infection.
Aloe Vera extract immediately soothes the affected area.
Includes
Manuks Oil
Manuka Honey
Aloe Vera
Free From
Paraben free. No mineral oil. Not tested on animals.
To Use
Use on minor burns, cuts, grazes, insect bites, itching, skin irritation and sunburn.
For general use, clean affected area and apply as required. Avoid contact with eyes. For external use only.
About Manuka Oil
ManukaVantage products contain Manuka Oil with the highest levels of anti-microbial activity, exclusive to the Manuka trees growing naturally in the wind swept hills and valleys of the East Cape region of New Zealand.
After extraction from the fresh green leaves of the trees we have taken this unique oil and blended it into our range of authentic New Zealand Manuka products.
About Manuka Honey
Unique to New Zealand pure Active Manuka AAH (Antibacterial, Antioxidant Honey) 650+ has remarkable beneficial properties. High in antioxidants which neutralise free radicals and the highest natural antibacterial activity reading of 650+, makes this an especially beneficial honey for your health.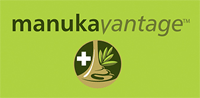 ManukaVantage
Active AAH (Antibacterial Antioxidant Honey) 650+
Manuka Oil
This new range features the exceptional natural healing properties of Active AAH (Antibacterial Antioxidant Honey) 650+ and Manuka Oil.