Magnesium Lotion
by Life-flo
Magnesium Chloride Brine.
From the ancient Zechstein Seabed.
Description
Magnesium Lotion is a highly concentrated lotion of pure magnesium chloride mined deep from under the earth's surface from the Zechstein Sea in the Netherlands.
Formulated with rich shea butter and coconut oil to soothe and hydrate skin without leaving it feeling greasy.
Ideal for massage and can be used daily.
Includes
Magnesium Chloride Brine
Coconut Oil
Shea Butter
Vanilla Oil
Free From
Parabens, Artificial Colour, Artificial Fragrance, Petrochemicals.
To Use
Apply to skin, morning and night, as needed. Repeat as necessary, covering any areas needing special attention.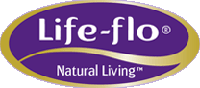 Magnesium Range
Highly concentrated.
Magnesium sourced from the Ancient Zechstein Seabed.
Magnesium was first discovered outside the Greek city of Magnesia. In ancient times, it was used as a natural cure in the form of Epsom salts and as a laxative.
Applying magnesium to the skin is a fantastic way to complement your dietary intake of this essential mineral.