Radiant Skin HA
by Life-flo
**SHORT DATED STOCK**(expiry end Feb 2019)
Revitalising Skin Cream with Hyaluronic Acid.
Description
Radiant Skin cream helps replenish the hyaluronic acid (HA) which is naturally lost with age, and leaves skin felling renewed, smoother, and younger-looking.
Benefits
Unmatched hydrating properties result in smoother, softer and younger looking skin.
Helps promote cellular renewal and structure.
With Maximum Strength Hyaluronic Acid.
Non-greasy and formulated for excellent absorption.
Includes
Aloe Vera
Sunflower Oil
Shea Butter
Hyaluronic Acid
Atichoke Extract
Grape Seed Extract
Evening Primrose Oil
Beeswax
Free From
Free of parabens and synthetic fragrances and colorants
To Use
Apply once or twice a day as needed under makeup or use alone. Massage small amount into well-cleansed skin.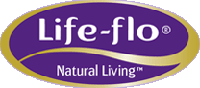 Life-flo
Founded in 1995, Life-flo provides you with the most advance natural products available.
They incorporate time-tested formulas with the latest discoveries and scientific advances to provide natural, scientifically formulated products.