All-Purpose Cleaning Paste
by Ecozone
| | |
| --- | --- |
| Size: | 300g pot |
| Ref: | GP-STO |
| Price: | Sold Out |
Sorry, this product is no longer available.
Heavy duty.
Biodegradable.
Clean and polish throughout the home.
Description
This heavy-duty natural cleaning paste will change the way you clean forever.
It's biodegradable, preservative-free and has no added phosphates.
It's so useful you can use it for loads of stuff around the home, and it'll last for ages so you can keep on cleaning again and again and again.
It comes with a specially designed sponge in the lid to make cleaning a doddle. And because it's made of 100% natural ingredients, you can clean and polish without spreading nasty chemicals through your home.
Benefits
This clever little hard paste cleans, polishes and protects. It'll remove dirt, oil, calcium build-up and grease from: Silverware, Copper, Brass, Chrome, Stainless steel, Pewter, Aluminium, Leather, Acrylics, Vitro ceramics, Tiles, Grout, Mirrors, Windows, Shower screens, Barbeques, Ovenware, Alloy wheels.
Not recommended for gold plate and car paint work.
Free From
100% natural¬ Biodegradable¬Preservative-free¬No added phosphates¬Safe to use with septic tanks.
To Use
1. Wet the sponge and wipe it over the dry paste.¬ 2. Apply to the soiled area in a circular motion.¬ 3. Rinse, wipe dry then admire your handy work!
Not recommended for gold plate and car paint work.
Before use test on an inconspicuous area as this is an abrasive product.
Awards
High ultimate degradability according to the OECD test. It's safe to use with septic tanks.
This product carries the EU Ecolabel, which means it meets the highest environmental standards while still delivering high performance. Verified by a robust and independent certification process, the award isn't based on one single factor, but on studies that analyse the impact of the product on the environment throughout its life-cycle. This product has undergone stringent performance testing benchmarked against the mainstream market leaders to be awarded with the Ecolabel.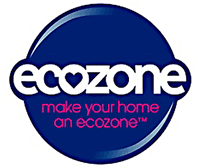 Household Cleaning
Earth friendly, green products.
Mission - to 'Make Your Home an Ecozone'.
We want to reduce the amount of toxic chemicals you live with. Homes should be safe, clean places for people to flourish, not germs. But we don't see why giving dirt the heave-ho means letting loose all manner of planet-zapping toxins. For Ecozone being green's not about attaining some elitist or hippy ideal. Respecting the environment can be a way of living every day. By giving planet-friendly solutions to your household problems, they hope you'll be able to make choices that are better for you and everyone else, the world over.