Enzymatic Drain Cleaning Sticks
by Ecozone
Monthly treatment for free flowing drains.
Helps prevent germs and odours.
Up to 12 months use.
Description
The Ecozone drain sticks are a new innovation in effective drain maintenance.
The sticks break down almost anything that gets through the plughole which causes blockages and bad smells in the kitchen and bathroom.
Using powerful natural bacteria and enzymes the drain sticks will keep your drains free flowing and clean smelling.
Each packet of drain sticks contains 12 sticks, enough to help prevent blockages and bad smells for 1 year.
Benefits
Breaks down grease, fat and food which cause blockages and bad smells.¬ Uses powerful natural bacteria and enzymes.¬ Keeps your drains free flowing and clean smelling.¬ Recommended by Allergy UK.
To Use
Simply drop one stick directly into the plughole and let it get to work.¬Repeat every month to maintain a free flowing, cklean smelling drain.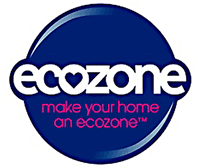 Household Cleaning
Earth friendly, green products.
Mission - to 'Make Your Home an Ecozone'.
We want to reduce the amount of toxic chemicals you live with. Homes should be safe, clean places for people to flourish, not germs. But we don't see why giving dirt the heave-ho means letting loose all manner of planet-zapping toxins. For Ecozone being green's not about attaining some elitist or hippy ideal. Respecting the environment can be a way of living every day. By giving planet-friendly solutions to your household problems, they hope you'll be able to make choices that are better for you and everyone else, the world over.