Ecoballs - 240 Wash Pack
by Ecozone
| | |
| --- | --- |
| Size: | pack of 2 |
| Ref: | GP-5150 |
| Price: | Sold Out |
Sorry, this product is no longer available.
Deliver a clean fresh alternative to conventional detergents.
Eliminate the need for fabric softener.
Anti-bacterial properties.
Stain remover power comparable to other leading eco powders/laundry balls.
Allergy UK Approved Product.
Description
Ecoballs stand for everything we believe in. They're a scientific breakthrough in environmentally friendly cleaning.
Good clean fun starts here. Ecoballs are a fresh, natural alternative to usual laundry detergents and cost just 8p per wash, so they're kind to the planet and your pocket – and because they're unfragranced and residue-free, they're kind to your skin too.
Ecoballs soften clothes even in hard water and their scientifically formulated ingredients work hard to wash dirt clean away. Don't worry, they're really gentle. They won't fade colours or damage fabrics. What's more, they're soap free so cut the rinse cycle to save on water and electricity.
Includes
2 eco-balls.
Ecoballs are non-toxic solid washing pellets.
To Use
Follow laundry fabric care label instructions and place the load in the machine drum. ¬Never overload the machine, we recommend a 3/4 load as the Ecoballs® must be allowed to circulate freely in the water and amongst the clothes to achieve the desired results.
Place both Ecoballs on top of the load together inside the drum. Ecoballs need to circulate in the water so only use your regular washing programme and do not select a reduced water program.
You can use an ECO setting as long as the water that is used during the washing cycles is not reduced. Select the desired temperature, between 30°c and 60°c. Do not boil wash with the Ecoballs you will shorten their life.
The pellets inside the Ecoballs do not contain any fillers, builders or any chemical that leaves a build up in the fabric, therefore you may cut out the rinse cycle from your wash programme to save water, if your machine allows. If you cannot cut out the rinse, you can still use the Ecoballs® through the rinse,you just will not be saving any water. Wash time should be around 30 minutes to gain maximum washes.
You may continuously use the Ecoballs wash after wash but once you have finished all your washing for the day you must always take the Ecoballs® out of the drum to dry.
Based on a 30 minute wash cycle they should last for 240 washes (including the top up pellets supplied in the pack).
The rinse cycle can be shortened saving water and electricity and they will not fade bright colours or damage clothing fibres.
Ecoballs soften clothes even in hard water so there is no need to add fabric conditioner.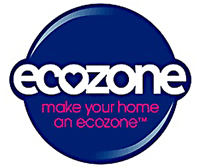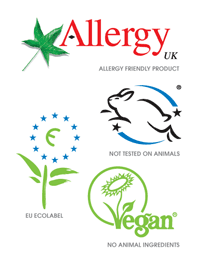 Laundry Care
Environmentally friendly products.
Respecting the environment can be a way of living every day. By giving you planet-friendly solutions to your household problems, Ecozone hope you'll be able to make choices that are better for you and everyone else, the world over.
The Ecozone Laundry Range helps you reduce the temperature that laundry can be washed at and still be fabulously clean.
Using Ecozone's laundry products at low temperatures will reduce your household CO2 emissions and save you money.