Gengigel Gingival Gel
by Gengigel
Promotes Natural Healing.
Non-stinging, soothing mouth-healing gel.
For mouth ulcers, soreness & bleeding gums.
For targeted pain relief.
Description
A unique formulation containing Hyaluronan, a component that is naturally present in the mouth responsible for reducing inflammation and stimulating production of healthy new tissue.
Clinically proven to alleviate pain, provide effective protection and promote rapid healingin respect of a range of gum conditions including:
Apthae & other ulcers
Lichen planus
Localised bleeding, soreness or inflamed gums (Gingivitis)
Gum recession
Periodontal pockets
Food burns
Includes
Hyaluronan
To Use
Massage gently into the affected area 3-4 times daily, or as required.
Ideal for ulcers, receding gums and any localised trauma.
Adults and children 3 years and older with appropriate supervision. Do not eat or drink for 30 minutes following use. Use as necessary, (or as directed by a dental professional) but particularly before meals to ensure maximum comfort while eating.
Approx. 120 applications.
Benefits
Gum disease treatment recommended by hygienists.
Provides active protection from gum disease and support for the natural healing of inflamed and damaged tissue in the mouth.
Helps speed healing and soothes after surgery.
Class 2 medical device.
Comments & Customer Reviews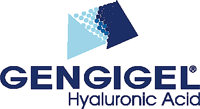 Gengigel.
Gengigel for high-quality daily care of your Mouth and Gums.
Gengigel is a Biological Mouth and Gum-care Gel, and mouthrinse based on Hyaluronic Acid, providing active protection from Gum Disease and support for the natural healing of inflamed and damaged tissue in the mouth. Gengigel contains Hyaluronan and Xylitol. Hyaluronan (a natural healing agent) is an established aid to surgery, which stimulates tissue regeneration. In clinical trials it was found it can boost tissue healing by up to a half, increase blood supply and reduce inflammation.
Applying Hyaluronan as a mouth rinse or gel strengthens cell walls and gets cells to stick together. The tissue grows back faster, while being able to resist re-infection.
Available as either a gel or mouth rinse.