Toilet Cleaner
by Earth Friendly Products
Plant Powered.
Cleans, deodorises & fights limescale.
Clings to the bowl.
Cedar fragranced.
Description
Toilet Cleaner is formulated with coconut based surfactant, citric acid and cedar oil to clean and deodorise effectively and work on scale and bacteria.
It is a thick gel rather than a liquid and should be used with a brush. Woody cedar fragrance.
Cedar oil and citric acid make the foundation of the product and it works effectively against the hardest water stains.
Its cedar oil smell is like no other chemically smelling toilet bowl cleaner in the market place.
Free From
Readily biodegradable, greywater and septic tank safe.
Vegan, cruelty free and carbon neutral.
Free of lye (sodium hydroxide), phosphorus/phosphates, mineral acids, HCl, petrochemicals, 1-4 Dioxane, enzymes, chlorine, DEA and petroleum ingredients.
Features
Pleasant cedar scent; free of unpleasant harsh scent/ fumes/vapors.
Rinses off surfaces easily without leaving any residue.
pH 2.0-3.0, least acidic/caustic of all toilet bowl cleaners using the mildest acid.
Non-polluting/100% biodegradable/non-toxic/natural.
To Use
Squeeze a small amount of the thick liquid around the top of the toilet bowl and under the rim.
Brush area thoroughly, leave for 5-10 minutes and then flush.

Cleans and decalcifies toilets and all porcelain surfaces.
Ideal for use on sinks, tubs and tile, water stains in toilets.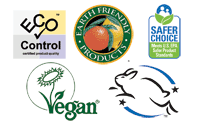 Earth Friendly
Natural Household Cleaners
Free from chemicals.