Parsley Plus Multi-Surface Cleaner
by Earth Friendly Products
| | |
| --- | --- |
| Size: | 500ml spray bottle |
| Ref: | EF-PP |
| Price: | Sold Out |
Sorry, this product is no longer available.
With Natural Parsley.
Ready to use on work surfaces and appliances.
Environment friendly, plant based cleaning.
Description
Bring the wonderful fresh herb smell of parsley into your home. This versatile natural surface cleaner is perfect for cleaning all kitchen and hard surface areas around the home, leaving a fresh clean fragrance.
Formulated to be truly pure, green and effective cleaner Parsley Plus is safe to use on any washable surface such as oven tops, hoods, work surfaces, refrigerators, walls, tiles and sinks.
Includes
Parsley Essence¬Natural Coconut derived surfactant¬
Free From
Formaldehyde¬Petrochemicals¬GMO's¬Phosphates¬Chlorine¬Ammonia¬Non-ionic surfactants¬100% biodegradable¬pH neutral¬Septic tank safe¬Greywater system safe¬ Ammonia-free; glycol and glycol ether-free.¬
Benefits
Neutral pH (7-8); very gentle on skin, rarely causes irritations in customers with skin sensitivities/allergies.¬ Free of harsh fumes or vapors.¬ Leaves no toxic residue on surfaces cleaned unlike other all purpose cleaners; leaves no residue period.¬ Non-polluting/100% biodegradable/non-toxic/natural.¬ Made of replenishable/sustainable ingredients.¬ Naturally fresh.¬Cleans effectively.
To Use
Spray directly onto the surface and then wipe over with a lint free cloth or sponge. repeat as necessary. Great for use on countertops, ovens, appliances, sinks, walls, floors, ceramic tiles.¬ Can use on painted surfaces, vinyl, linoleum, metal, porcelain.¬
Our Tester
"I use this for all over cleaning and it cuts through grease and muddy splashes! Great for general cleaning and leaves a really natural fresh smell - even gets rid of the smell of garlic and fried food."
Comments & Customer Reviews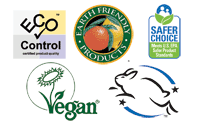 Earth Friendly
Natural Household Cleaners
Free from chemicals.