Furniture Polish + Cleaner
by Earth Friendly Products
| | |
| --- | --- |
| Size: | 500ml spray bottle |
| Ref: | EF-FP |
| Price: | £ 4.00 Out of Stock |
| Due: | January |
Natural Olive Oil.
Cleans and protects wood.
Environment friendly, plant based cleaning.
Description
Specially formulated with Olive Oil and Orange Oil to protect, clean and care for your wood while bringing out its natural beauty.
The natural formula contains Coconut derived cleansing conditioners which help loosen and gently remove fingerprints, smudges and dirt.
Great to help remove water marks from finished wood and hide minor scratches.
Restores and preserves all wood finishes.
Includes
Olive Oil.
Orange Oil.
Natural Coconut derived cleansing agent.
Free From
Phosphates.
Chlorine.
Formaldehyde.
Ammonia.
Petroleum ingredients.
pH neutral.
100% Biodegradable.
Septic tank & greywater system safe.
To Use
Shake well before use.
Turn spray nozzle to spray setting and spray surface from about 8 inches away.
Wipe immediately with a soft clean cloth.
Do not use over wax.
Use on Furniture, Cabinets, Paneling and Vinyl.
Not suitable for floors as it may leave them slippery.
Comments & Customer Reviews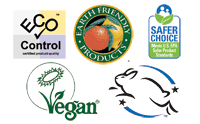 Ecos - Earth Friendly
'One by one we can change the world'.
There's clean, and then there's honest clean.
Earth Friendly Products was founded in 1993 with a simple mission: To provide high quality cleaning products that are absolutely safe for your family, your pets and the environment, made with replenishable ingredients.
In 2017 Earth Friendly Products proudly celebrated 50 years of creating environmentally friendly and sustainable cleaning & laundry products using thoughtfully sourced ingredients which are safer for people, pets and the planet. To mark the occasion, they changed their name to ECOS, the same as their best-selling laundry detergent. The ECOS range offers an effective clean, powered by plants at an affordable price. All products are positively free from formaldehyde & dyes, are readily biodegradable & easily recycled, as well as