Instant Stain Remover
by Ecoegg
Multi purpose stain remover.
Tackles the toughest stains.
Contains no chlorine bleach.
Tackles tough stains.
Description
Spillages and stains are part of life – we can't stop it from happening, but now you can deal them effortlessly, and naturally!
Our Instant Stain Remover couldn't be simpler to use. Simply spray the affected area, and watch the stain disappear in seconds. No rubbing, no scrubbing, no fuss!
The Instant Stain Remover is so effective with hardly any effort required from you. Watch it cut through stains with just a few sprays – amazing!
It will power through all kinds of stains no matter how long they have been there, what kind of fabric they are on, or whether they are fresh or dried in – and you will still be amazed by the results every time!
Works on anything from a leaked fountain pen on a white shirt, to strawberry stains on your children's clothes, and even red wine stains on your tablecloth. It is an incredibly effective, natural cleaner.
Benefits
Removes stains instantly and naturally
Dermatologically tested and is hypoallergenic.
Cuts through stains with just a few sprays
Works on all kinds of stains from red wine to berries
Contains no harsh chemicals
Free From
It contains no Peroxide, no Chlorine Bleach, or Phosphates
To Use
For best results treat stain as soon as possible.
1.Remove excess liquid / dirt and moisten area with water.
2.Apply enough stain remover to treat the area.
3. Rinse to remove all residue and treat again if needed.
4. Wash garment as usual.
Always do a patch test on an inconspicuous area before use!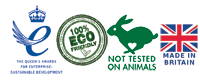 Laundry
Natural Laundry Care
Made in Britain
Certified by Allergy UK
Ecoegg was born out of the lack of alternatives to chemical laden laundry products that were kind to skin as well as being natural and effective.

They are passionate about producing eco-friendly products that don't include any harsh chemicals, are environmentally friendly and good for your health.
They are also very proud to manufacture in the UK.