Professional Styling Comb
by Denman
Dual purpose comb to give volume and body to fine hair.
Description
This exceptional comb has been designed to the highest standards of precision and quality. Ideal for adding body, volume and styling hair.
Particularly suitable for fine hair.
Excellent for lifting and backcombing.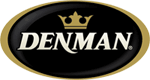 Denman.
Professional Hair Brushes and Combs.
UK Made
In 2013 the family run company celebrated the 75th anniversary of this iconic brand which is renowned for its exceptional standards of quality, performance and innovation.
The first Denman hairbrush was invented back in 1938 by John Denman Dean. Popularised in the swinging sixties by hairdressing legend, Vidal Sassoon, through his revolutionary blow-drying techniques.
Today, Denman manufactures in excess of 400,000 brushes and combs each month from its Northern Ireland based factory.