7 Piece Travel Pack
by Danielle Creations
Description
The perfect solution for decanting all your essential travel items into the required size for airport security and also ideal for short breaks or simply to keep in the office or gym.
Presented in a clear carry on bag with a sturdy zip fastening, far more elegant than the ziplock bag!¬Overall bag size 19cm x 17cm.
Includes
1 x 100ml flip top bottle.¬1 x 60ml flip top bottle.¬1 x 60ml atomiser bottle.¬1 x 50ml flip top bottle.¬1 x 25g cream jar.¬1 filter funnel for easy filling
Advice On Airline Travel Restrictions
Only limited quantities of liquids may be carried through security control as hand baggage. This includes Bottled Drinks, Suntan Lotion, Fragrances, Cosmetics and Toiletries. The following restrictions apply to all Liquids, Creams, Gels, Pastes and Aerosols taken through security control.
Liquid items may only be carried in containers holding up to 100ml. They must be carried separately in a single transparent, re-sealable plastic bag. The bag must be no larger than 20cm x 20cm (8in x 8in) and all items must fit inside so that it closes properly.
Comments & Customer Reviews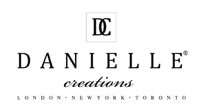 Danielle Creations
Founded over 30 years ago.
UK market leader in cosmetic bags and beauty accessories.
Over the years the company has grown their range to an extremely exciting and diverse collection of top quality beauty and lifestyle products.
This extensive range extends from fashion led cosmetic bags to compacts, make-up and nail care accessories.