Argan Cleansing Oil
by Badger
| | |
| --- | --- |
| Size: | 59ml pump bottle |
| Ref: | BA-101 |
| Price: | Sold Out |
Sorry, this product is no longer available.
Facial Oil for all skin types.
Non-Comodegenic.
USDA Certified Organic.
Description
Discover the power of oils to restore your skin's natural health and beauty!
Castor oil lifts impurities while Argan, Sunflower, and Jojoba replenish essential vitamins, fatty acids, and lipids. Clears away makeup and impurities leaving your skin feeling clean, balanced, and glowing!
The castor oil within the Cleansing Oil helps lift impurities from the skin, while the ingredients of Argan, Sunflower, and Jojoba replenish essential vitamins, fatty acids, and lipids without over-drying the skin.
This cleansing oil has a light floral and citrus scent blended with cooling mint to help uplift the mind and senses.
Benefits
100% Natural and Certified Organic
Deep-pore cleanser for all skin types
Uplifts the mind and senses with a light floral citrus aroma
Re-balances skin, leaving it refreshed and glowing
Clinically tested non-comedogenic
Includes
Sunflower Oil
Jojoba Oil
Argan Oil
Castor Oil
Orange Oil
Bergamot Oil
Menthol Crystals
Sandalwood Oil
Ylang-Ylang Oil.
Free From
100% Natural
To Use
Just 3 easy steps for glowing skin!
Step 1: Massage cleansing oil onto a dry face in a circular motion until skin is covered.
Step 2: Use a wet, warm washcloth to steam open pores and gently remove oil, dirt, and make-up.
Step 3: Follow with Badger Argan Beauty Balm for nourished skin that feels silky smooth.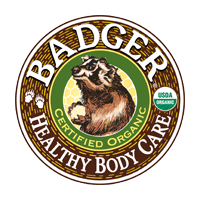 Facial Care
USDA Certified Organic & 100% Natural .
Let your natural beauty shine through!
Inspired by thousands of years of skin care tradition, Argan Face Oil and Argan Beauty Balm are a nourishing treatment for face, neck, and under eye area. Great for hands, too!
The light floral and citrus aroma of Argan, Sandalwood, and Ylang Ylang smells delightful.