include discontinued items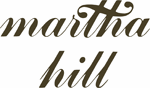 Martha Hill
Serious herbal skin care for over 40 years.
With the original range formulated in the late 1960's Martha Hill was well ahead of her time in producing a range of skincare products based on the purest natural ingredients.
All Martha Hill products are formulated to react to your skin's daily needs. They are finely balanced to ensure that your skin receives the care it deserves. Based on a carefully researched combination of the finest natural oils and extracts they are designed to cleanse, tone, moisturise and nourish: the four essential steps to a healthy, glowing complexion.
History
Martha Hill (1911-2004) was a pioneer in both fashion and herbal beauty products.
Her interest in natural skin care evolved gradually during her farming days in the 1950's. During this period she experimented with old country recipes until finally, with the help of a renowned Swiss chemist, she achieved her dream; a range of herbal based skin care products, free from Animal Derived ingredients, packaged simply and based on natural ingredients. Launched over 30 years ago her original four products are still as popular as ever.
Martha's career took off with a bang in late 1930s when she made an immediate impact as a young fashion designer in her home town of Leicester. She started her own independent fashion house (Martha Hill Ltd) in 1942 and enjoyed a long and successful career in both fashion and beauty, working right up into her 80s.
She became famous for the original way she used knitted jersey fabrics in her dress designs. In the 1960's, with her original designs, her fashion boutiques in London's Marylebone High Street and Kings Road became landmarks for the famous and infamous. It was around the end of this decade that she launched her first herbal based skin care products, which she personally sold from the counter of her London clothes shops.
In the 1970's she continued to develop more of her own herbal beauty products along with her 'green' environmental policies of simple packaging and recycling. She can rightfully claim to be one of the pioneers of natural beauty movement.
The 1980's saw Martha retire form fashion and move to the country. Having built up a loyal following from her shops she began selling direct from her home. Her company became one of the first to sell skin care by mail order.
Now in the 21st Century Martha's products and ideas continue to appeal to those who share her values and have enjoyed the benefits of her products.