Manuka Honey Conditioning Face Mask
by Wild Ferns New Zealand Manuka Honey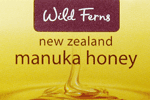 Wild Ferns Manuka Honey
Made with special care in New Zealand.
With premium certified Manuka Honey 80+
Unique to New Zealand pure Active Manuka has remarkable properties. High in antioxidants which neutralise free radicals, and with the highest antibacterial activity reading of 80+, makes this an especially beneficial honey to assist in the health and enhancement of your skin.
Wild Ferns skincare products are all made with special care in New Zealand.
They are not tested on animals and are presented in environmentally-friendly packaging.
It is also their philosophy to ensure the most important ingredients come from sustainable sources helping to retain and protect the clean, green, unique beauty that is New Zealand.