Smart Floss
by Dr Tung's
Size:

27m roll

Ref:

TU-02

Price:

£3.60 £ 3.29 Out of Stock

Special Offer - save 9%
Stretches & cleans.
Removes more plaque.
Naturally waxed.
Fresh cardamom flavour.
Description
Expands into interdental spaces for super cleansing. Clinically proven to remove up to 55% more plaque.
More surface area for superior cleaning. Stretches, so it's gentler on gums, softer on fingers. Instantly feel how much better it cleans!
Includes
Natural cardamom flavor for fresh breath. Natural plant and bees wax coating.
To Use
1. Wrap 18" (45cm) of floss around fingers & draw tight.
2. Tug & release. It expands!
3. Slide floss between teeth, curve it around tooth and clean between tooth and gum with gentle up and down motion.
4. Repeat using a clean up and down motion.
Also works with braces and wide spaces.
Comments & Customer Reviews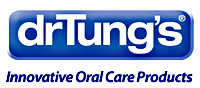 Dr Tung's
These products have grown out of a passion for bringing healthy smiles naturally. Since their small beginnings, Dr. Tung's has always been on the leading edge and they now provide innovative products for fresher breath and healthier smiles.