Gengigel Gingival Gel
by Gengigel
Restores & maintains healthy gums.
Soothes inflamed & damaged oral tissue.
Description
Works naturally to heal sore bleeding gums before it's too late. Proven in clinical trials to initiate the healing process when gum tissue has been damaged due to poor oral hygiene.
The active ingredient is Hyaluronan - a naturally occurring physiological constituent of connective tissue that helps to facilitate the natural tissue healing and recovery process. It binds easily to the skin forming a bond to restore and maintain healthy gums and soothe damaged or inflamed tissue and receding gums.
Includes
100g contains Hyaluronan 25mg, Xylitol and excipients.
To Use
After brushing apply the gel 3-4 times daily for 3-4 weeks.
Apply the gel onto the affected tissue, massaging gently with a clean finger to distribute evenly over the inflamed area.
Customer Comments
"Gengigel working very well on gum recession to back molar - almost completely healed with one tube." H.J. Peterborough.
"Gengigel products are the best. They really do help." M.H. Blackley.
"I have recently placed an order and started using the Gengigel straight away. For the first time in over a year, I was able to eat a meal without pain. Sheer Heaven! I do not intend to be without this wonderful product." V.H. Oswestry.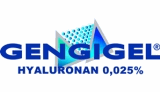 Gengigel.
Gengigel for high-quality daily care of your Mouth and Gums.
Gengigel is a Biological Mouth and Gum-care Gel, and mouthrinse based on Hyaluronic Acid, providing active protection from Gum Disease and support for the natural healing of inflamed and damaged tissue in the mouth. Gengigel contains Hyaluronan and Xylitol. Hyaluronan (a natural healing agent) is an established aid to surgery, which stimulates tissue regeneration. In clinical trials it was found it can boost tissue healing by up to a half, increase blood supply and reduce inflammation.
Applying Hyaluronan as a mouth rinse or gel strengthens cell walls and gets cells to stick together. The tissue grows back faster, while being able to resist re-infection.
Available as either a gel or mouth rinse.