Carpet Cleaning Microsponges
by Ecoegg
Powerful dry carpet cleaning.
Cleans and freshens all carpet types.
Absorbs dirt so it can be vacuumed away.
Unique microsponge tchnology.
Fresh Linen Fragrance.
Description
Ecoegg Carpet Cleaning Microsponges are so simple to use, and really effective too!
Simply give your carpet a quick vacuum to pick up any residual dirt, sprinkle the microsponges over your carpet, then use the silicon brush (included) to agitate deep into the carpet fibres and leave for around 10 minutes. Each microsponge is a super thirsty sponge, which will quickly absorb the dirt. You will see the sponges start swelling and changing colour, absorbing the stain until it has been removed from your carpet.
Then just vacuum up the microsponges, and your carpet will be left looking brand new – no more waiting around for your carpet to dry! Unlike many liquid cleaners, the stain won't reoccur – it has gone for good.
With liquid cleaners, how many times have you applied the cleaner, think the stain is gone, only to have it dry and find the stain has reocurred? Liquid cleaners often just remove the stain from the top of the carpet. The stain still remains at the bottom of the carpet fibres, which then travels up to the top again – so frustrating!
These Microsponges are different. They clean deep down into the pile of the carpet, absorbing the dirt from the bottom up, preventing the stain from coming back.
It works on all kinds of carpet, including wool, sisal, coir, and it can also be used on other materials such as leather too.
Benefits
Revolutionary dry carpet cleaning
Better for the environment
Cleans and freshens all carpet types
Absorbs stains – just vacuum away
Dry carpet cleaning – no liquids required
Dermatologically tested and containing no harsh chemicals
Kind to sensitive skin and to your pets too.
750gs of sponges will clean 22.5 square metres of carpet
Made in the UK
To Use
First time you open the pouch you will find an inner sealed pouch and this includes the scoop and brush.
1.Vacuum the carpet to remove loose dirt.
2. Using the scoop sprinkle the sponges onto the carpet.
3. Using the siicone brush agitate the sponges into the carpet.
4. Leave to absorb dirt for 10 minutes then vacuum away.
Comments & Customer Reviews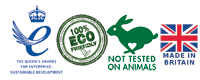 Ecoegg Natural Cleaning Solutions.
Natural household products.
Ecoegg has won a Queen's Award for Enterprise in Innovation 2016.
Ecoegg was born out of the lack of alternatives to chemical laden laundry products that were kind to skin as well as being natural and effective.

They are passionate about producing eco-friendly products that don't include any harsh chemicals, are environmentally friendly and good for your health.
They are also very proud to manufacture in the UK.