Swipes Eyeglass Cleaner
by Denman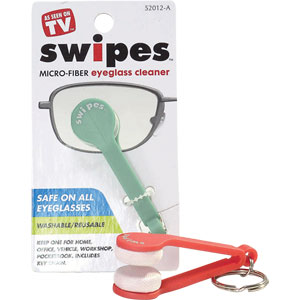 Micro-fibre.
Safe on all eyeglasses.
Washable/Reusable.
Keep one for Home, Office, Vehicle, Workshop, Pocketbook.
Includes key chain.
Description
Ultra-high density micro-fibre pads safely clean all types of lenses.
Washable
To clean, simply rinse with warm soapy water, and dry thoroughly.
To Use
1.Insert the lens between the pads.
2.Apply soft pressure with thumb and index finger.
3.Rotate pads in a swiping motion until lens is clean.
What We Say
"A neat, compact eyeglass cleaner with two cushioned pads covered with a micro fiber fabric that needs no water or sprays to effectively clean your lenses. The nifty cleaner has a clever tong-like spring action to quickly clean both sides of your lenses, instantly!"
Denman.
Professional Hair Brushes and Combs.